Pdk io seamlessly integrates with Assa Abloy Aperio wireless locksets, providing complete wireless access control in locations where it is difficult or expensive to install a wired lock. Using the Aperio IP hub, pdk io is able to control up to 16 wireless locksets per hub.
Aperio AH40 IP Hubs and the Aperio-enabled devices associated with those hubs should be installed and configured according to the Aperio documentation. The process for adding these devices and hubs to the ProdataKey system is continued in the pdk.io management interface.
NOTE: Aperio needs to be the current beta channel (Channel: beta) and running pdk.io version 1.6.4 or above.
Aperio AH40 Communication Hub Placement
AH40 must be installed by qualified and trained personnel into a junction box such as a two-gang box, an Aperio bottom cover, or with the junction box adaptor plate. The AH40 is for indoor installation only!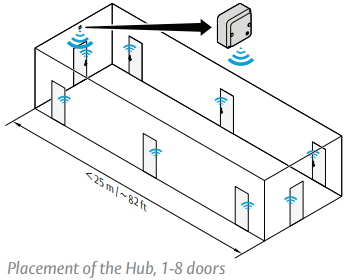 AH40 Connectors
J201 Connector - Ethernet connector: Connection to the Electronic Access Control system through a 10BASE-T / 100BASE-TX Local Area Network. Can also be used for power supply if connected to an IEEE 802.3af compliant Power Sourcing Device (PSE). CAT5 or higher wire requirements.
J321 Connector - Power supply input: 8-24 VDC. Power supply shall be a Limited Power Source (LPS) according to international standard 60950-1. Power supply shall be 3A over current protected. 16-22 AWG wire requirements.
NOTE: When PoE (Power over Ethernet) is used, no power supply may be connected to J321. The installation must comply with national wiring regulations.
ANTENNA - Select external antenna by connecting the two left pins.
NOTE: To install an external antenna, use a thin screwdriver and gently pry the antenna cap loose. BE CAREFUL, there are sensitive components behind the cap!
Select the internal antenna by connecting the two right pins.
PAIR - Select pairing mode by connecting the two left pins.
Aperio Communication Hub LED Indicators
The Communication Hub has a status LED visible through the front cover. It supports optical status indicators with red, green, and yellow LEDs. The indication schemes are described in the graphic below.
NOTE: With the Aperio Programming Application software tool and a USB radio dongle, further system installation parameters can be set.
The Aperio Programming Application is the software tool used to set up and program Aperio-based products. Using the software, the installer plugs the USB radio dongle into the PC to communicate directly to the Aperio lock via the Communication Hub. The software has an encrypted installation database that can be used to manage any number of sites.
The LINK LED on the communication hub indicates both the status of the Ethernet Link level and whether communication is ongoing.
NOTE: The LED on the Ethernet connector is not used.
Aperio Technical Specifications
Physical Dimensions - 3.2 in. (H) x 3.2 in. (W) x 1.45 in. (D) / 82 mm (H) x 82 mm (W) x 37 mm (D)
Power Supply - 8VDC to 24 VDC or Power over Ethernet (PoE)
Power Rating - Shall be able to deliver a minimum of 3.5W and shall be 3A over current protected.
PoE - IEEE 802.3af compliant class 1 powered device (PD)
Ethernet - 10BASE-T / 100BASE-TX Local Area Network
Radio Standard - IEEE 802.15.4 (2400 - 2483.5MHz)
16 channels (11-26) in EU
15 channels in the USA and Canada (11-25)
AES 128-bit encryption
Receiver Sensitivity - -100 dBm
Wireless Transmit Power - 10 dBm/MHz according to EN ETSI 300 328 maximum spectral density
Wireless Operating Range - Indoors up to 25 meters (82 feet) depending upon installed environment
Internal Antenna - Two-port cross-polarized patch antenna
External Antenna - One reverse polarity SMA external antenna connector. AH40 is certified to be used with ASSA ABLOY external antenna AH ANTENNA 1. If another external antenna is used, it must be the same type (dipole) and not have a larger antenna gain than 3.9dBi.
Operating Temperature - 5° C to 35° C / 41° F to 95° F
Humidity - <95% non-condensing
IP Classification - IP20
Safety and Emissions - FCC 47CFR Part 15 subpart B and subpart C
IC RSS-210
EN ETSI 301 489-17 v2.2.1
EN ETSI 300 328 v1.8.1 EN 60950-1 2006 / A11:2009 / A12:2011 / A1:2010 / AC:2011
UL 294-2010
Technical Support
Should you require any technical assistance, please contact our knowledgeable ProdataKey Support staff. Your support queries covering hardware, software installation, trouble tickets, troubleshooting, return merchandise authorization (RMA), or any other questions are addressed as immediately as possible.
NOTE: In order to receive an RMA from pdk, we must first troubleshoot the device prior to the user receiving an RMA number and the device being returned to the user.
Support:
Phone:

801.317.8802

option #2

or direct at:

801.206.4086

and

801.871.3009

Email:

support@prodatakey.com

Direct Dealer Support Line:

801.206.4086
ProdataKey, LLC - 67 West 13490 South, Draper, Utah 84020 United States