Troubleshooting wireless issues with pdk io is a snap. Use the DISCOVERY and DIAGNOSTICS tabs in the Configuration
screen to access these wireless tools and features.
Wireless Device Configuration
Wireless Hardware Configuration
The DISCOVERY tab, in conjunction with the Wireless Discover button
, is used to "discover" and list the wireless devices that are attached to the Cloud Node. Once wireless devices are attached to the Cloud Node, they need to be discovered using the Discover tool before they are listed. It can also be used for auditing and troubleshooting purposes.
Click the Wireless Discover button
in the lower right to reveal and display any wireless controller connections attached to the Cloud Node. Wireless devices that have been configured into the system are listed.
The DIAGNOSTICS tab can also be used for auditing and troubleshooting purposes.
DIAGNOSTICS Tab
The DIAGNOSTICS tab displays a visual diagram of the Cloud Node(s) and controller device(s), by connection type, that is attached to the system.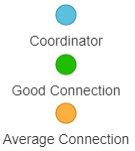 This example illustrates the ProWireless Cloud Node and the connected controller devices. The color codes on the right illustrate the connection strength of the connected device(s).
Hovering the cursor over a device indicates its connection information.

Short Address: Similar to a local IP address, it is used, if needed, to define a Personal Area Network, dividing devices into different networks.
Full Address: The device's MAC address.
Average RTT: Average Round-Trip Time. The duration, in milliseconds, for a network request to go from a starting point to a destination and back to the starting point.
Average Retries: When a connection fails, this is the number of retries that are made in order to connect.
Failure Rate: Percentage of connection failure. 0 indicates no failure; 1 is 100% failure.
Hovering the cursor over the connection lines between the coordinator and a device indicates the strength of the signal between them.

These signal values range from 0 to 255 (255 being the best and strongest possible signal).
START / STOP LINKS TEST
Click START LINKS TEST to update the graphic representation of devices connected to the Cloud Node.
Click STOP LINKS TEST to end the device connection test.
Technical Support
Should you require any technical assistance, please contact our knowledgeable ProdataKey Support staff. Your support queries covering hardware, software installation, trouble tickets, troubleshooting, return merchandise authorization (RMA), or any other questions will be addressed as immediately as possible.
Support:
Phone:

801.317.8802

option #2

or direct at:

801.206.4086

Email:

support@prodatakey.com

Direct Dealer Support Line:

801.206.4086
ProdataKey, LLC - 67 West 13490 South, Draper, Utah 84020 United States