Here, we'll show you how to install a door position sensor to a door controller.
DPS Installation Overview
When installing a door position sensor, we recommend using a 22/2 shielded wire. Pull the 22/2 shielded wire through the opening of the enclosure. Make sure the DPS wire ends are stripped and prepped for installation. (In this illustration, we use the second reader port, as shown in the image.)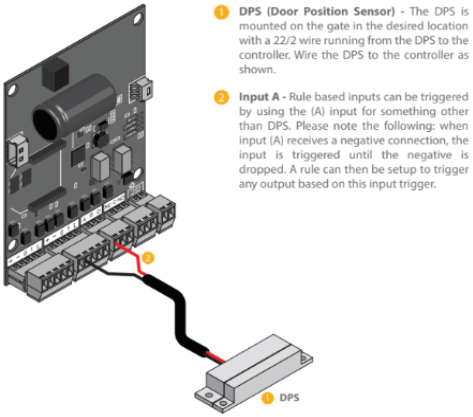 1. Remove the second reader port terminal block (labeled + - 0 1 L). (The first or primary reader port terminal block may also be used.) Insert one of the wires into the negative output. Replace the terminal block.
2. Remove the input/output terminal block (labeled A B O) and insert the remaining wire into the Aux input A, which is used to report the status of a door. Replace the terminal block.
The installation of a Door Position Sensor is complete.
Technical Support
Should you require any technical assistance, please contact our knowledgeable ProdataKey Support staff. Your support queries covering hardware, software installation, trouble tickets, troubleshooting, return merchandise authorization (RMA), or any other questions will be addressed as immediately as possible.
NOTE: In order to receive an RMA from pdk, we must first troubleshoot the device prior to the user receiving an RMA number and the device being returned to the user.
Support:
Phone:

801.317.8802

option #2

or direct at:

801.206.4086

Email:

support@prodatakey.com

Direct Dealer Support Line:

801.206.4086
ProdataKey, LLC - 67 West 13490 South, Draper, Utah 84020 United States