Here, we'll show you how to install an electric strike to a door controller.
Strike Installation Overview
When installing an electric strike, we recommend using an 18/2 shielded wire. Pull the 18/2 shielded wire through the opening of the enclosure. Make sure the ends are stripped and prepped for installation. In this article, we will be cutting negative. (We use the second reader port, as shown in the image.)
1. Remove the second reader port (labeled + - 0 1 L) terminal block (The first or primary reader port terminal block may also be used.) Insert the red wire into the positive output. Replace the terminal block.
Fail Safe
2. Remove the NC C NO terminal block. For Fail-safe configuration, insert the black wire into normally closed (NC). Replace the terminal block.
Fail Secure
For Fail-secure configuration, insert the black wire into the normally open (NO). Replace the terminal block.
3. Install a jumper over the pins next to the main relay. Because we are cutting negative, place the jumper on the top two pins. This will force a negative polarity out of the main relay.
When using a strike, you will need to make sure a diode is installed. Install the diode at the strike with the striped end on positive and the black end on negative.
IMPORTANT: The diode MUST be installed as close to the lock as possible. The best scenario (if possible) is directly across the screw terminals on the lock (as shown in the first image). Another option is to splice the diode in parallel (shown in image two), connecting it to the positive (+) and negative (-) strike wires using dolphin connectors, and crimp the wires. For questions or detailed information, please contact the ProdataKey Support staff.
Installing the diode backward for a strike can cause the Cloud Node or the io door controller to reboot. A damaged or blown (dead) diode can act as if there is no diode, installed backward, or show incorrect data in the logs such as a card scan when the strike returns to the default state.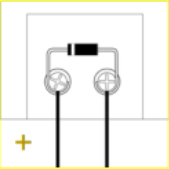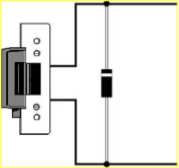 The installation of an electric strike is now complete.
Technical Support
Should you require any technical assistance, please contact our knowledgeable ProdataKey Support staff. Your support queries covering hardware, software installation, trouble tickets, troubleshooting, return merchandise authorization (RMA), or any other questions will be addressed as immediately as possible.
Phone: 801.317.8802 option #2 or direct at: 801.206.4086

Email: support@prodatakey.com

Direct Dealer Support Line:

801.206.4086
ProdataKey, LLC - 67 West 13490 South, Draper, Utah 84020 United States