Altronix Corporation designs and manufactures low voltage electronics for the video surveillance, security, fire, access control, and automation markets. Their Trove Access and Power Integration Solutions simplify board layout and wire management while providing extreme flexibility and scalability when designing and deploying access systems.

Altronix Trove supports and easily combines Altronix power with access controllers from the industry's leading manufacturers. DMP, ProdataKey (PDK), Sielox, and ZKTeco USA, to name a few, have joined Altronix's extensive list of access control manufacturers to capitalize on the benefits that Trove solutions deliver.
"Trove is engineered to help system designers easily lay out power supplies, access controllers and accessories in an organized streamlined manner, which saves time, reduces costs and conserves valuable space." - Alan Forman, President, Altronix Corporation.
Removable backplanes designed for specific access control brands (such as PDK's kit described below), allow installers to easily configure and test system configurations prior to on-site installation, reducing time and labor, and increasing profitability.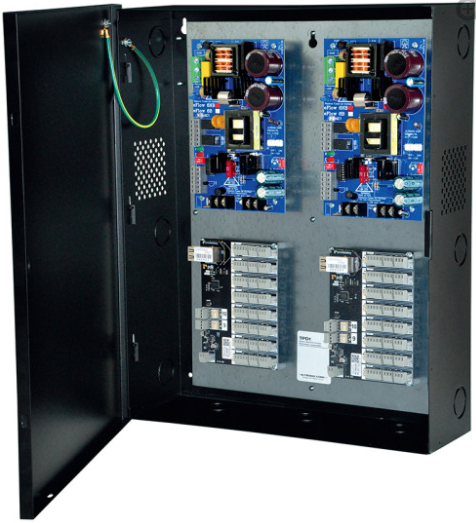 Trove1 Enclosure with TPD1 Altronix/PDK Backplane
The Trove backplane accommodates a combination of PDK boards with and without Altronix power supplies and sub-assemblies for access systems.
Enclosure
PDK 8DEE Boards
Altronix Power Supplies
1", 3/4", and 1 1/2" knockouts
Wall mount enclosure for indoor use
Includes one cam lock, one tamper switch, and mounting hardware
Includes Altronix Trove1 Enclosure and one removable TPD1 backplane
Dimensions: (W x H x D) 14.5" x 18" x 4.62" (36.83 cm x 45.72 cm x 11.73 cm)
16 AWG powder-coated steel enclosure with a single 1.5" center knockout on the top of the enclosure, plus nine 2-stage knockouts for 0.75" or 1" conduit.
Weights (approximate)
Product Weight: 15.15 Lbs. (6.87 kg)
Shipping Weight: 19.05 Lbs. (8.64 kg)
PDK Altronix Trove Kit
PDK's custom T1PDK7F24 Altronix Trove kit consists of a Trove1 enclosure, a PDK/Altronix backplane with one eFlow104NB 24VDC @ 10A power supply/charger, and can accommodate up to three PDK 8DEE boards (Eight io Ethernet Expanders) for controlling up to 24 doors, all neatly and compactly contained in a single enclosure.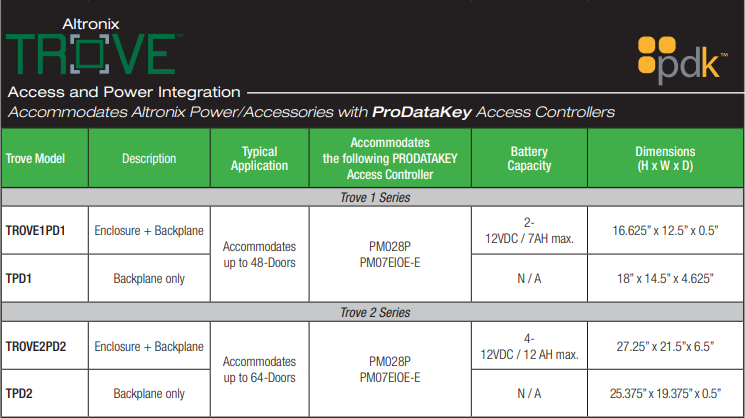 Kit Contents
| Name | Qty | Description | Agency Listings |
| --- | --- | --- | --- |
| Trove1PD1 | 1 | Altronix/PDK Access and Power Integration Enclosure with Backplane, Trove 1 Series | |
| eFlow104NB | 1 | Power Supply Charger, Single Output, 24VDC @ 10A, Aux Output, FAI, LinQ2 Ready, 115VAC, Board | |
Input
Voltage: 120VAC, 60Hz, 4.5A max.
Main Fuse: 6.5A / 250V
Outputs
Voltage: 24VDC
Current: 10A continuous
Auxiliary: Class 2 power-limited @ 1A (unswitched)
Other: Overvoltage protection. Filtered and regulated.
Battery Backup (not included)
Type: Sealed lead acid or gel type
Fuse Rating: 10A/32VDC
Failover: Upon AC loss, instantaneous
Fire Alarm Disconnect
Supervised: Latching or non-latching
End of Line: 10K Resistor *
IMPORTANT: Never use OPEN on a fire alarm rule, always use FORCE OPEN when a fire alarm goes off. After the fire alarm is cleared, use FORCE TOGGLE to close all doors and return them to their normal state. The reason for this recommendation is that when a PIN is entered or a badge is swiped to open a door during a fire alarm, that door is going to follow normal protocol to Open/Close the door. When the door closes it will lock again while the fire alarm is sounding. To keep the door open and prevent it from locking again after closing, use FORCE OPEN. In this way, when the door is swiped with a badge or a PIN is used during a fire alarm, the door will NOT change state and will remain unlocked. When the fire alarm is cleared, a FORCE TOGGLE for all the doors that were forced open will put them back into a normal running state.
* End of line (EOL) resistors are resistors of a specified value that are used to terminate protective loops or zones. The purpose of EOL resistors is to allow the control panel to supervise the field wiring for open or short circuit conditions.
Supervision
AC Failure: Form "C" contacts *
Battery: Form "C" contacts *
Low DC Power Shutdown: Shuts down DC output terminals if battery voltage drops below 70-75% for 24V units. Prevents deep battery discharge.
* Form C contacts ("change over" or "transfer" contacts) are composed of a Normally Closed contact pair and a Normally Open contact pair operated by the same device; there is a Common electrical connection between a contact of each pair that results in only three connection terminals. It can also be described as single pole, double throw.
LED Indicators
Input: 120VAC is present
DC Output: Powered
Environmental
Temperature
Operating: 32° F to 120° F (0° C to 49° C)
Storage: -4° F to 158° F (-20° C to 70° C)
Relative Humidity
BTU/Hr (approx.):
12VDC: 128 BTU/Hr.
24VDC: 128 BTU/Hr.