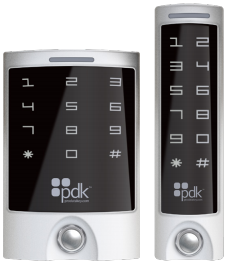 Models:
Single-Gang Rugged Reader PN: RDRGR
Mullion Rugged Reader PN: RDRMR
Reader Install - Information Overview
Sleek Design. Vandal Resistant.
Upgrade to something sleeker and more durable with the rugged touch keypad readers. The mullion-style reader is just the right width, making it ideal for door frame applications. Or, use the single gang reader, which is a bit wider, making it perfect for wall mounting applications.
Specifications
Inputs
Output
Environmental
Temperature: -4º ~ +140º F / -20º ~ +60º C
Humidity: 0 - 95% relative humidity non condensing
Enclosures
Single-Gang Dimensions (W x H x D) 3.25" x 4.875" x .875"
Mullion Dimensions (W x H x D) 1.625" x 6.25" x .75"
Metal Enclosure
Weight
Single Gang: 0.44 lbs (7 oz)
Mullion: 0.5 lbs (8 oz)
Power
Manufacturer's Limited Warranty
For full details on our one- to three-year warranty against defects in materials and workmanship, visit prodatakey.com. Visit ProdataKey Support to access installation and support resources.