To protect your equipment against electrical kickback (or backfeed voltage), the diode must be installed across the DC powered lock, at the strike, between positive (+) and ground (-). DC voltage is polarized. The diode must be installed in the direction shown in the illustrations: Gray stripe to positive (+), black to negative or ground (-).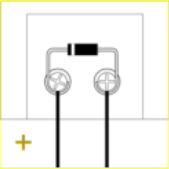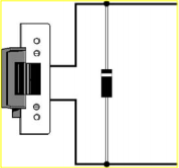 The provided diode MUST be installed when using a strike. Install at the strike with the stripe of the diode on positive (+) and the black on negative (-).
The diode MUST be installed as close to the lock as possible. The best scenario (if possible) is directly across screw terminals on the lock (as shown in the first image below). Another option is to splice the diode in parallel (as shown in image two), connect it to the positive (+) and negative (-) strike wires using dolphin connectors, and crimp the wires.
Using the ELK-912B with a Gate Controller
The ELK-912B (purchased separately; not included with the gate io gate controller) is a heavy-duty relay module featuring 12 or 24 Volts DC selectable operation, low current draw, and voltage input LED. It is ideal for general purpose switching of devices or high current loads.
The ELK-912B is recommended for use as an isolation relay between a gate controller and the Single io for monitored connections. It is useful as a hardware interrupt to protect the Single io board from backfeed voltage. 
ProdataKey Cloud Node Board
As shown in the above diagram, the ELK-912B + (positive) connects to the + terminal on the Single io board, and the - (negative) connects to the Single io NO (Normally Open) terminal. A jumper on the Single io board connects the center post and (-) pins. Wiring from the gate controller connects to the ELK's NO (Normally Open) and COM (Common). 
Power Requirements
Before powering up the Cloud Node or a door controller, make certain you are not exceeding the required voltage and the maximum number of amps. 
Single io - 12 to 24 Volts AC/DC input. Maximum of 2 amps input. 
Eight io - 12 Volts DC input only. Amperage is based on the total number of devices being used with a maximum of 10 Amps. DO NOT power the Eight io board with 24 Volts DC. 
Cloud Node - 14 Volts AC 2 Amps maximum.